Description: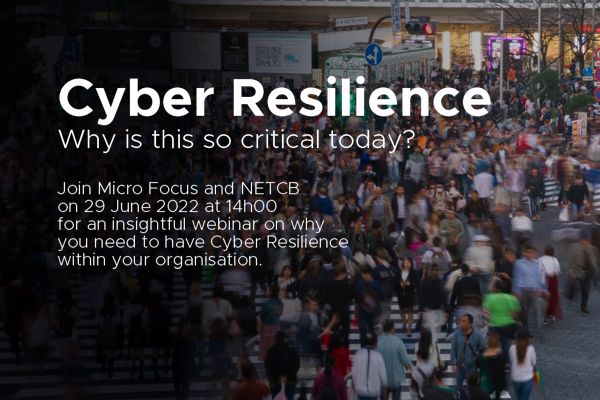 Join Micro Focus and NETCB for this in-depth journey on why organisations need to take a holistic approach in terms of their Cyber Security. Today it has become an almost daily occurrence to read in the news of yet another organisation that had its security systems breached. The biggest challenge facing organisations is the siloed approach toward building security frameworks.
This creates a false sense of security as even when an organisation can tick off all their Cyber Security checkboxes they fail to realise that without a holistic approach that establishes the Cyber Resilient organisation, many gaps still exist in the trust, reliability, and survivability during times of adverse conditions, crisis and business volatility.
During this webinar, you will learn how Micro Focus bridges the gaps to accelerate an organisation with a holistic approach to establishing the Cyber Resilient organisation. Once one sees Micro Focus as a "Vendor Agnostic" vendor, that plays well with any type of environment to ensure that the necessary bridges between all your security siloes are established, one will realise the significant value contribution Micro Focus provides on the road to comprehensive Cyber Resilience within your organisation.
Micro Focus's CyberRes portfolio combined with the solutions and decades of experience from NETCB, attending this webinar should be considered by every Security Practitioner, CSO, IT Director and CIO to form a comprehensive understanding of the importance of the Cyber Resilient organisation.