NETCB provides solutions in the following categories: Digital Workspaces, Cyber Security and Hybrid Cloud Computing.
NETCB has provided our clients with various solutions over the years to facilitate their Digital Workspaces. Today, NETCB continues this extensive capability of providing our clients with the various elements that are required to establish Digital Workspaces. Some of these elements are products and solutions that have been developed by NETCB, with various integrations into the technology elements provided by a number of our technology partners.
Our approach is to reduce the overall complexity often assocatiated to establish comprehensive Digital Workspaces while at the same time to ensure that we limit the ability of single vendor dominance. This ensures that our clients always have the ability to rapidly transform and adapt to the ever-changing requirements of these Digital Workspaces.
Our clients require simplified User Experiences when accessing these Digital Workspaces. NETCB has developed and designed the system archtectures and integration elements that are required to present our clients with Rapid Digital Transformation mechanisms for these Workspaces. The most crtitical aspect of these Digital Workspaces is simplicity: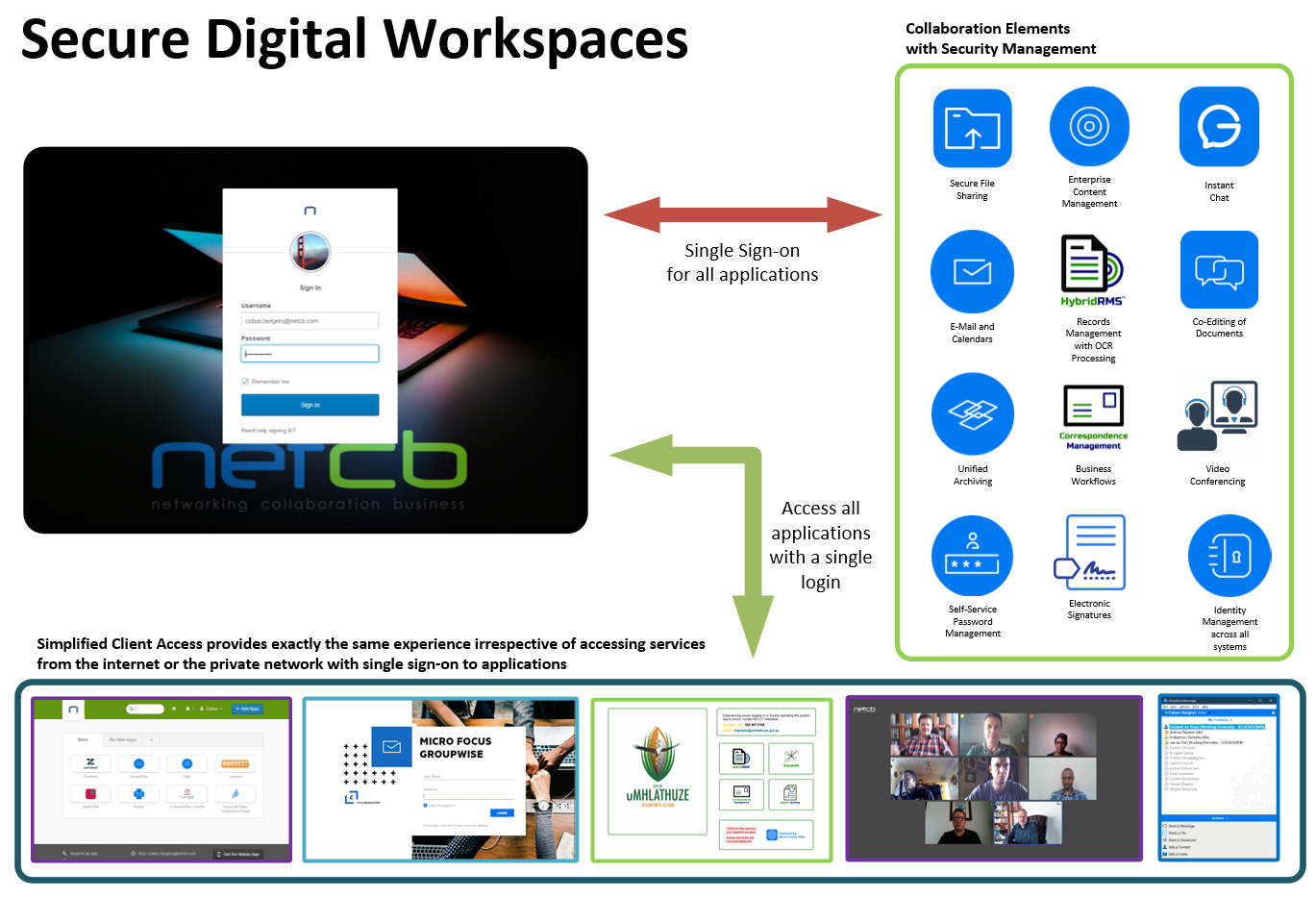 The elements of our Digital Workspaces include, but not limited to the following areas:
Document Management
Electronic Signatures
Secure File Sharing
Records Management
Video Conferencing
Workflow Management
Unified Communications Archival
Office Productivity Applications
Enterprise E-Mail, Scheduling and Calendars
Task Management
Managing Security and Risk and providing the right tools to ensure that organisations comply within their respective legislative frameworks is a cornerstone of all our solutions. Using our solutions we enable Enterprises to obtain unqualified audits in terms of their Security and Risk Management practices.
Access Governance
Identity Management
Privileged Access Management
Host Access Management
End-Point Security Management
Mobile Device Management
ITIL Service Management
Records Management
NETCB ensures that all the solutions we provide come with the required management frameworks to ensure that the infrastructure that must host our solutions can be managed securely, as well as protecting the customer's data in the process. Our Infrastructure Management Solutions cover the following areas:
Cloud Strategy and Migration
Hosted Services
Disaster Recovery
Data Protection